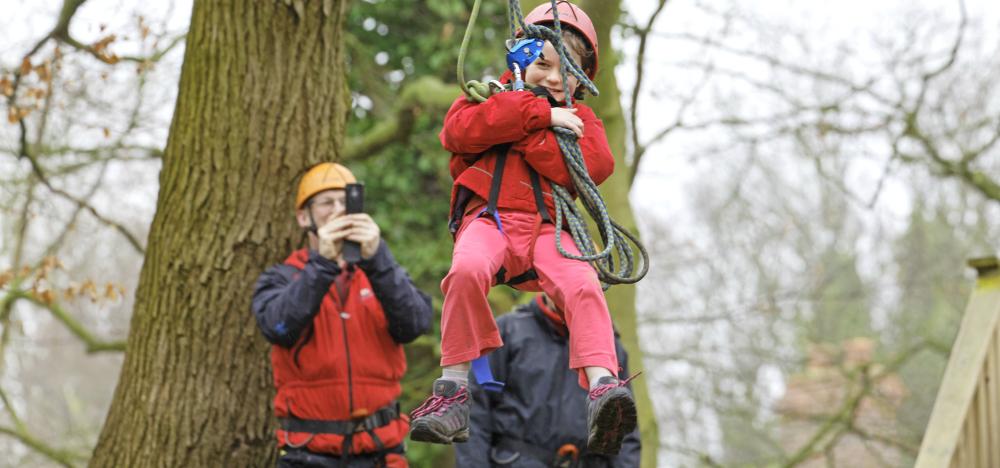 JCA is committed to providing safe and fun educational trips to schools and groups. We appreciate as a parent or guardian you will want to learn more about who we are and how a JCA adventure will benefit your child's development.
This section has been designed to provide you with all the information to answer your questions, understand how we operate and help put your mind at ease.
JCA has been supporting young learners for over 25 years
We've been providing memorable moments for young learners and families for over 25 years through our adventure programmes that engage groups in outbound activities. Our range of outdoor and indoor challenges include abseiling, kayaking, tunnelling, orienteering, laser maze, and tons more! 
Throughout our years of operation we have built up a wealth of experience within our head office and centre teams to create multi-night and one-day adventures that tap into the development of essential key skills. Our JCA team of group travel experts and on-site JCA instructors share the same ethos to promote education, personal development and, of course, fun! 
While we have a concentrated focus on delivering adventure breaks to UK groups, JCA is part of Travelopia, the world's largest specialist travel brand. This strong network built across Travelopia means you can have the peace of mind that your child is in safe hands with specialists in travel. Setting our own high bar of expectations, the JCA family takes pride in delivering a safe and reliable service.

Educational benefits
At JCA, we recognise the value of the great outdoors and the benefits that come from getting children involved in physical activity. With an opportunity to engage in challenges they can attempt at their ability level, children are not only able to participate but achieve. We promote a culture of inclusion to ensure all can experience our fantastic range of activities on offer at our UK activity centres.
As a recognised provider of Learning Outside the Classroom (LOtC) we create opportunities to experience something that cannot be replicated within the school grounds. Our activity programmes allow for children to take on an adventure, discover nature, and embrace new challenges. 
For some children, spending a night away from their family can be a huge step. Through our years of experience, we have found our nurturing environment allows children to adjust and easily adapt to their new surroundings. Our benevolent environment not only instils confidence, but also provides a platform to build resilience. 

Recognised as a leader in outdoor education
Across our UK activity centres, our adventure programmes have been recognised by leading national bodies and associations as delivering high quality and effective learning through outbound activities.
We are proud to have been awarded the LOtC Quality Badge which acknowledges our work in providing young learners with an environment to develop away from the barriers of the classroom, by giving children an outlet to explore, develop an awareness of their surroundings and natural environment, and to do so while enjoying a safe space with their peers. 
We believe in learning through hands-on activities that allow children to gain new skills. Our broad range of activities including both land and water-based activities have been inspected by independent associations to ensure we continue to exceed the standard defined. Our instructors not only qualify against the expectations set by JCA, but the guidelines set to acquire British Activity Providers Association (BAPA) status.
Learn more about our accreditations here

Providing secure environments
The safety of all who join us at our JCA activity centres is our top priority. We promote a culture of safety awareness and carry out daily checks to ensure our high expectations surrounding safety and security are maintained.
An externally inspected Safety Management System is in place at all of our JCA activity centres with every member of the JCA team trained to our required standards. Our JCA instructors hold the Health & Safety Executive Appointed Person award and carry a first aid kit for all activity sessions. We ensure a senior member of the JCA team with the First Aid at Work qualification is also present at each of our sites. 
Safety and equipment checks are conducted consistently at the start of each day before groups arrive for their first activity. In the event any equipment shows signs of wear, the item is removed and replaced in line with the provisions set out in our Safety Management System.
Comprehensive risk assessments have been completed for all activities featured at our UK activity centres. Generic documents are available to download to support Party Leaders in gaining final approval from their senior leadership team. In the event any accidents or near misses arise, these are recorded by on-site JCA staff, analysed, and corrected to ensure such issues are avoided in the future.
Our UK activity centres place a shared emphasis on site security. A member of staff is on call 24 hours a day and a senior staff member is on duty until late. Most centres operate night porters who patrol until the morning to monitor the grounds and maintain the highest standards of security. In addition to this patrol, our activity centres have clearly defined perimeters with security barriers and CCTV security.
Each member of the JCA team is recognisable by their uniform and name badge. All visitors to our activity centres are required to sign the visitor book upon arrival and wear a visitor badge to identify themselves to our centre staff.
What to expect from a JCA adventure
We tailor each JCA adventure to the requirements expected by the school/group Party Leader.
Our team of residential trip specialists piece together an itinerary based around the desired learning outcomes and activities that match these goals.
However, to provide you with an insight into what your child may experience with us at JCA, we have put together a number of sample items for your reference.

Children's birthday parties at Condover Hall
Are you looking for a unique children's party venue? At our Centre of Excellence, Condover Hall in Shropshire, we offer the fabulous opportunity for parents to book their child an alternative and exciting birthday party.
Join us for your special occasion and truly make it a day to remember with an afternoon of adventurous activities and drinks and nibbles! Learn more about birthday parties at Condover Hall here.

FAQs
We want to provide you with the reassurance and confidence you deserve to ensure your child is in safe hands, which is why we aim to display all the information you and your child's Party Leader need to prepare for a JCA adventure. The team welcomes questions and are always happy to help answer any queries you may have.
These have been collected into a dedicated FAQ section which you can access here.