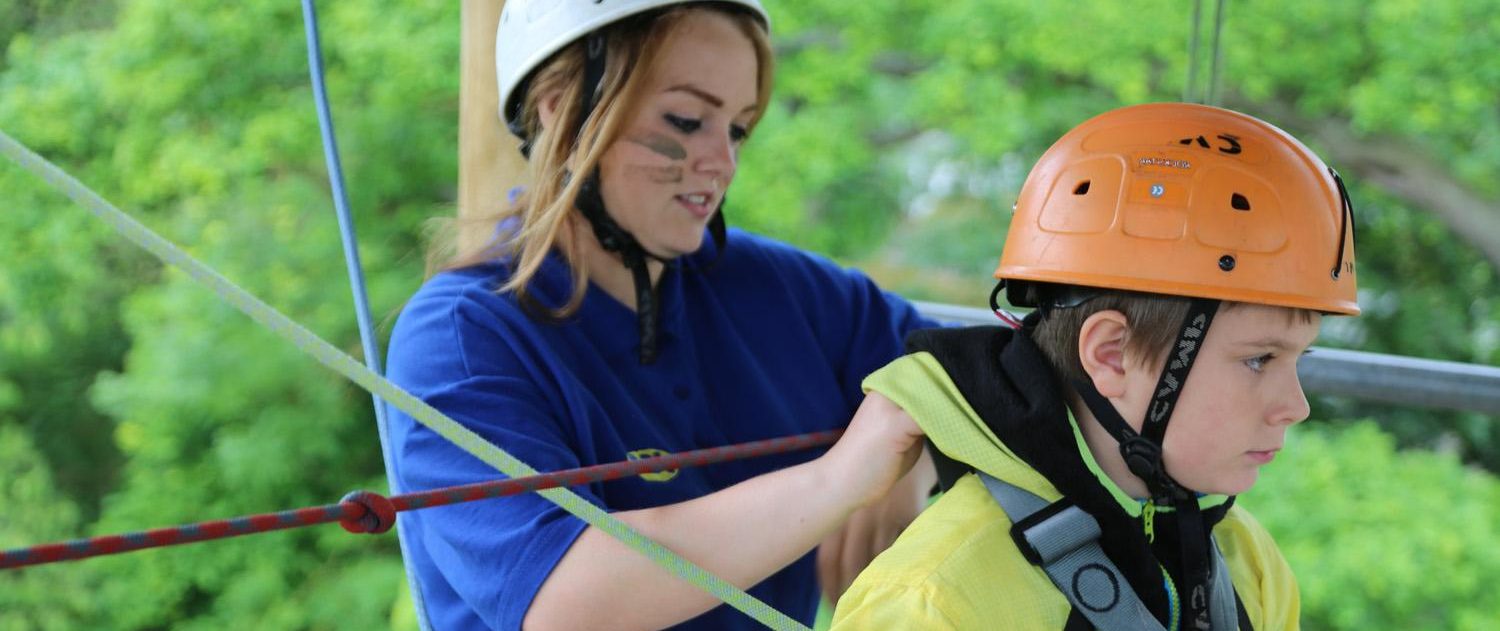 At JCA, we pride ourselves on providing a high-quality learning experience through our programme of adventure activities. While the safety of all who join us on multi-activity courses is of paramount importance, we also place an emphasis on enjoyment, education, and building self-confidence. Find out more about our accreditations, awarded to us as providers of quality outdoor learning experiences.
Exceed standards, surpass expectations
We are confident in delivering a unique experience that not only lives long in the memory, but positively contributes to enhancing each individual's development. This is achieved by creating opportunities for young learners to engage in team-building, self-directed challenges, and problem-solving activities. As a result, key skills are developed, including communication and organisation, plus fine and gross motor skills. Working towards these goals, Party Leaders will also recognise improved teamwork, social cohesion, leadership qualities and self-confidence within their children. A number of key regulatory and advisory bodies also recognise the work we do, and we continue to exceed the standards defined by the British Activity Providers Association (BAPA), as well as additional sporting National Governing Bodies.
Learning outside the classroom
JCA have also been accredited with the Learning Outside the Classroom (LOtC) Quality Badge. The Council for Learning Outside the Classroom believe every young person should experience the world beyond the classroom as an essential part of learning and personal development, whatever their age, ability or circumstances. Sharing the same vision, we believe meaningful learning occurs through acquiring skills through real-life hands-on activities. Our range of outdoor and indoor activities therefore allows for young learners to interact and engage with challenges suitable for all abilities to achieve.
View Condover Hall Activity Centre's LOtC Quality Badge
View Croft Farm Waterpark's LOtC Quality Badge
Delivering high-quality adventure activities
Our programme of activities across our UK activity centres covers a range of different disciplines, for which we have also been recognised and accredited for delivering high-quality learning experiences.
All JCA instructors are trained by GB Archery instructor-award standards, and our archery ranges are operated according to the GB Archery guidelines.
We operate strictly within the code of practice laid down by BAPA, of which we are full members. Our centres are subject to inspection by independent inspectors.
Our instructors are trained by British Fencing instructors. All fencing coaches hold the Fencing Activity Leaders Award.
We are a Registered Body with the Disclosure and Barring Service (DBS) and all staff are required to apply for enhanced disclosure.
All instructors are trained in first aid and hold the 8-hour appointed person certificate as a minimum.
We are corporate members of the Institute of Outdoor Learning.
All lifeguards are trained to the levels required by The Royal Life Saving Society (RLSS).
Watersports activities at Croft Farm are operated by an Adventure Activities Licensing Service (AALS) licenced provider (licence no. L10044/RO273). Croft Farm Leisure and Waterpark is a recognised RYA training centre and as such, its courses, equipment and instructors are subject to regular inspections.
Learn more about JCA's commitment to outdoor learning and how your group can benefit from an adventure at our UK activity centres.