We are responsible
JCA Adventure is a part of the Experience Education division within Travelopia. At Travelopia, we are driven by travel's potential for good; our diverse portfolio of travel businesses is unified in their common purpose "to enrich lives through inspiring travel experiences", not only for our guests but also for the people and places we visit.
We recognise the urgent nature of the climate and biodiversity crisis we face, and that certain aspects of tourism are currently contributing to both. We commit to playing our part in reducing these and seeking ways in which we can contribute to the solutions required.
We are currently measuring the carbon emissions of our offices and operations, and developing a decarbonisation plan in line with the Intergovernmental Panel on Climate Change's (IPCC) carbon reduction goals. Additionally, we are developing plans to support the restoration of the natural landscapes we need to tackle climate change.
Our sustainable travel operational standards ensure that the way in which our trips are operated eliminates or reduces any negative impacts on our destinations and seeks to increase positive impacts for people and places. Closer to home, our sustainable workplace policy drives us to act responsibly in our places of work.
Environment
At JCA, we aim to limit our impact on our historical Grade I listed estate where trips take place. Our objective is to preserve the historic heritage of Condover Hall and protect the fragile ecosystems, flora and fauna that flourish within the estate's grounds.
The Condover Hall mansion is 35,840 square feet with ancillary buildings extending to 108,000 square feet, sitting in an estate of around 88 acres. With such a building comes great responsibility to manage its upkeep. We have to ensure we are conscious of what alterations or repairs can be made so that they do not contravene any listed sanctions.
Within the mansion itself, we ensure we obtain the correct advice before completing any work and simple repairs, including the replacement of broken windows using the required materials. This is always undertaken by skilled local traders who are specialists in the repair and restoration of historical buildings.

Reducing Carbon Emission
In parallel with maintaining our building and heritage, our aim is to modernise our facilities. Hence, when an older light bulb fails, we replace them with low-energy alternatives. In the ancillary accommodation buildings, we are completing a window replacement scheme to improve heat retention and energy loss, while all new windows are replaced like-for-like.
At Condover Hall, we have installed a voltage optimiser which acts as energy-saving technology in connection with the main electricity supply to optimise, regulate and clean the incoming power supply. This brings the voltage supplied into a building in line with what is required. We are expecting savings not only in terms of the cost of the electricity, but also in the reduction of energy required.
In terms of our gas heating, we have installed controllers across the site's buildings to be able to better control the efficiency, timing and temperature of our heating.
We educate our staff and visiting guests in simple and effective ways they can help us save energy, and they are reminded by helpful signs (e.g. recycling) at the entrances of accommodation areas.

Protecting the estate's flora & fauna
Visitors can participate in various eco sessions such as environmental explorers aimed at increasing their awareness of the natural environment. We have recently constructed a natural lake in an area of farmland behind the Cound Brook to help encourage a larger variety of flora and fauna, as well as provide an educational experience for the children.
We have had several ecologist reports on the estate and continue to work with these experts to ensure we are doing our best to conserve the estate's wildlife. Some of our most recent additions have been the installation of several bat boxes across the grounds. Working with our ecologists, we have been able to identify our wildlife. Records of species include otters, great crested newts, brown long-eared bats and a small maternity roost of common pipistrelle bats in and around the grounds of the Hall. An active badger sett and a soprano pipistrelle roost have also been identified on the site. There is a wide range of birds, including woodpeckers, tits, nuthatches, herons and buzzards. All of our young guests have an induction and tour of the centre, and are encouraged to be aware of the countryside code when travelling through our grounds.
The Historical Landscape Plan sets out proposals to accommodate changes arising from our use of the estate by enhancing the existing gardens and parklands. The proposals provide a short and long-term programme of hard and soft landscaping work to enhance the gardens and parkland areas which sit on either side of the Cound Brook. One example project is to cut vistas within the treeline alongside the brook to re-establish views out to the parkland together with new tree planting. This links in with the conservation of the Bastion Garden House structure and associated walls and steps. Working alongside our Estate Company, we are making great progress with the plan and Condover Hall has now been taken off the 'Historic England at risk' register due to the progress we have made.
The site is covered by a Tree Preservation Order (TPO), which requires all the trees on the estate to be recorded and risk assessed. If we find dangerous, diseased or dying trees, we have an obligation to replace them. We are allocating new trees to our visiting schools who will have their tree labelled and can review progress on future trips. The new trees will include species such as beech, oak, holly and other natives.

Condover and the community
Throughout the years, our staff at Condover Hall have enjoyed working with local charities as well as helping out in the local community. Two charity organisations we have provided activity days for are the Chernobyl Children's Lifeline and Hope House Children's Hospice. Children from both organisations came to Condover Hall for the day to experience something that they had never experienced before.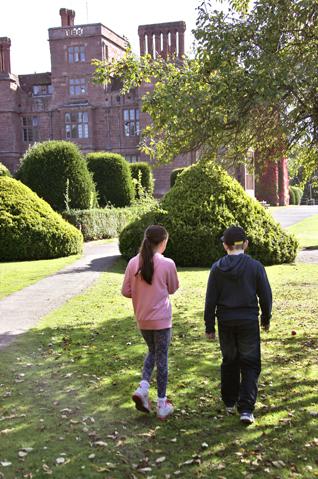 Chernobyl Children's Lifeline provides essential support for 9 to 12-year-old children of Belarus and Ukraine who are badly affected by radioactive contamination. We decided to lend a helping hand by running a thrilling activity day for a group of these disadvantaged children, which included taking part in the high ropes activities as well as all of our exciting indoor activities.
Hope House Children's Hospice provides specialist nursing care and support to life-limited children, young people and young adults. They too came to Condover Hall to enjoy a fun-filled day of activities. The smiles and delight that shone from the faces of both groups of children at the end of the day were enough to melt anyone's heart!
Early in the season, the staff paint kennels at Moorlands Rescue; a rescue centre for dogs situated on the outskirts of Condover village. Some of the staff enjoyed their time there so much that they return regularly in their free time to walk the dogs.
Duvets that are no longer used at Condover Hall are donated to Moorlands Rescue and also to Hilbrae Kennels, RSPCA Gonsal Farm and Primchurch Kennels, three other local rescue centres, to provide sleeping materials for the animals. Gemma Roadknight, the Deputy Housekeeping Manager at Condover Hall, contributed some of her own time to making dog beds out of old duvets and duvet covers.
In addition, Condover Hall has previously donated mattresses to Maninplace; a not-for-profit community enterprise set up to provide accommodation for people who are forced to sleep rough or are homeless in the borough of Telford & Wrekin.
Closer to home, in the local village of Condover, the staff have donated their time to litter-picking, including one full day doing an entire litter-pick throughout the village and cleaning road signs.
Condover Hall's latest act of charity was getting involved in Operation Christmas Child. This saw some members of staff collect items such as toys and stationery, pack them into shoeboxes wrapped in Christmas paper, and donate them to the Samaritans. These would then be delivered to disadvantaged children in war-torn or impoverished countries.
We now look forward to the future when we can spread some more happiness and offer helping hands to those in need.
Experience Condover Hall and explore the Shropshire countryside with your family.