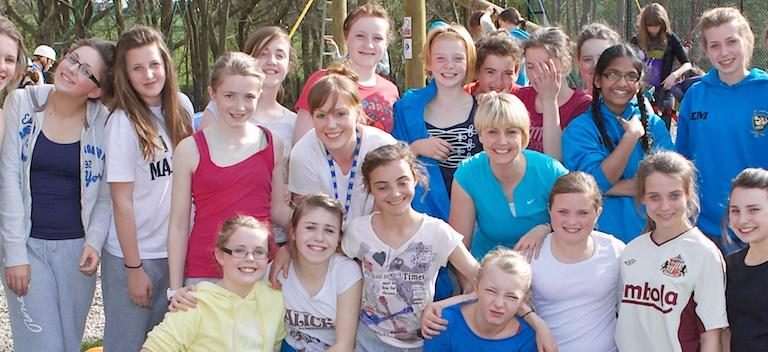 Supporting young learners in their development
JCA has been facilitating residential trips for secondary schools for over 25 years by providing a variety of activity centres in locations across the UK. We offer opportunities for groups of young people and their teachers to experience new and exciting challenges in a safe, fun and friendly environment through a selection of activities aimed at achieving chosen learning outcomes.
Secondary education is a key stage in the development of young learners. Our secondary school programme of activities looks to provide a broad learning experience extending beyond the boundaries of the classroom. Curriculum goals become directed towards skills needed to better prepare teenagers for their futures.
Tailoring the trip to the needs of your secondary school group
Build your secondary school trip around the activities of your choice with our huge selection of indoor and outdoor on-site activities allowing learners to build upon teamwork and self-confidence. We will build your adventure trip around the learning outcomes you want your secondary students to achieve.
Inclusion is high on the agenda for us as we realise the impact of our learning environments on students. Our engaging, fun and responsible JCA instructors are always on hand at our adventure centres to lead activities, support learning and enforce safety procedures.

Taking steps to lifelong learning
Our activities are designed to challenge and encourage students to extend their development. Learning and achieving together helps to generate team spirit and additional key skills which can be reinforced back at school.
We aim to ensure every student has the opportunity to identify progress and experience achievement. We see our activity breaks as the perfect opportunity for students to build stronger bonds with their peers. Besides developing self-esteem, our tailored programmes allow for exploration and energetic physical activity inclusive of all abilities.

outstanding venues to see learners grow
New experiences in new spaces will see students develop skills in order to adapt to unfamiliar environments.
Our centres also offer the opportunity to dive into nature with a series of eco challenges. These activities encourage students to consider how they can have a positive impact on the environment.
As their teacher, you may be seeking a watersports training for your group that not only develops communication but a deeper knowledge of safety on the water. You can even take part in 2-3 day courses to complete national accreditations in dinghy sailing, windsurfing or canoeing for those hoping to develop their skills further.
Whatever your aim, you can be assured we have a programme to suit your needs.
Support for Trip Organisers
Planning and running a school activity trip can seem a daunting task! With over 25 years of experience, our expertise is essential in providing you with action-packed, curriculum-linked itineraries, exceptional value for money and support every step of the way:
Dedicated instructor per group of 12 (except for some specialist activities)
Full-board accommodation, catering to special dietary requirements
Full insurance included
Expert customer service team to help plan every step
Documentation provided to help teachers prepare, including risk assessments
Tools to promote your trip, including posters and Powerpoint presentations
Easy payment plan to help parents budget for the trip
Our team is here to help
To enquire about a residential trip for secondary schools, call one of our friendly team on 01273 647 200 or simply fill in our quick enquiry form below!