Take on the challenge
For a lot of pupils, a JCA activity trip presents an array of new and exciting activities that they may not have experienced before, it could also be their first time spending the night away from home. This can be an unfamiliar and scary environment, but it provides the perfect opportunity for your students to develop their self-confidence, overcome their fears and learn to try new things.
The biggest fear faced by primary school students is often the aspect of being away from parents and family. It is commonly their first time away from home, especially for younger groups, but residential activity trips form such an important part of growing up and provide an unmissable opportunity for a valuable learning experience – especially when it comes to defeating fears or worries.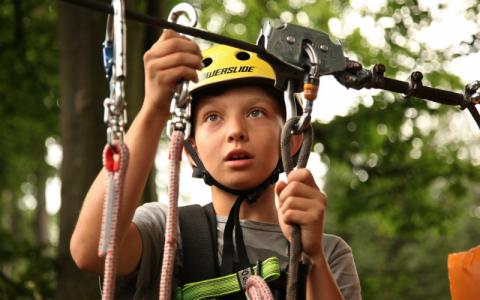 Support through peers
Close ties to peers are formed on school residential trips, with pupils coming together as they adjust and adapt to a new environment. While they remain under the instruction of Party Leaders and staff, students are given more freedom compared to being in the classroom, enabling them to come out of their shells and to bond with their classmates through new experiences and learning opportunities. Subsequently, this leads to improved confidence and peer support, giving students the perfect environment to help one another conquer new and thrilling challenges.
Fully trained instructors in a safe environment
With a multitude of activities across our five activity centres including abseiling, aerial trek, archery, canoeing, climbing, fencing, tunnelling and many more, there's plenty of chances for your pupils to challenge themselves, build their confidence and quash any anxieties.
Our fully trained instructors operate on a typical instructor to child ratio of 1:12. This allows our instructors to get to know each child – their strengths, weaknesses and personality. This helps the children get the most out of their JCA adventure, with instructors supporting children to help them overcome their fears and really embrace each activity.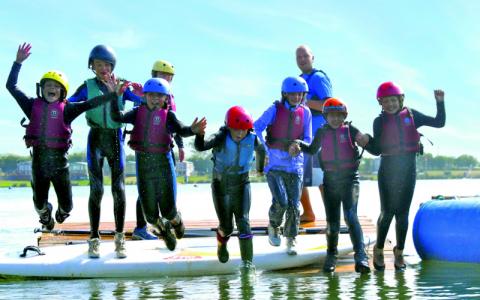 Tasks such as rock climbing and abseiling provide the perfect situation for your students to increase their resilience, determination and allay any fears they might have. With the support of teachers, instructors and their peers, your students will feel at ease when it comes to tackling the wall, enabling them to push themselves throughout the residential. Once you see your students reach the top of the wall, a sense of mass achievement on there face, you'll soon witness a change in their attitude to tackling issues back in the class, trying new things and their overall self-confidence.
Another example in which your students may need to tackle their fears is watersports. Children could be anxious about swimming or sitting atop a kayak or paddleboard. But on a JCA residential, our fully trained staff are on hand to edge your students into each activity, offering different levels of participation depending on each pupil's level of confidence.
Improved resilience, wellbeing and self-confidence
Your students may feel worried about heading on a residential; being away from home, not knowing what's planned, meeting new people, but, more often than not, pupils will quickly overcome these worries, thriving in an environment where they can be themselves and participate in new and exciting activities that they may not otherwise have the chance to experience.
Through conquering their fears they'll develop their self-confidence, which will reflect back into the school environment- you'll see your students feel more confident in lessons and going into exams. Pupils will also improve their resilience, which will result in the support of other soft-skills such as working as a team, handling conflicting opinions and problem-solving.
The experience of being away from home on a JCA residential will develop and nurture the building of character within your students, helping them exceed personal barriers and become more engaged in learning – with teachers able to refer back to these learning experiences and use them to their advantage back in the classroom.