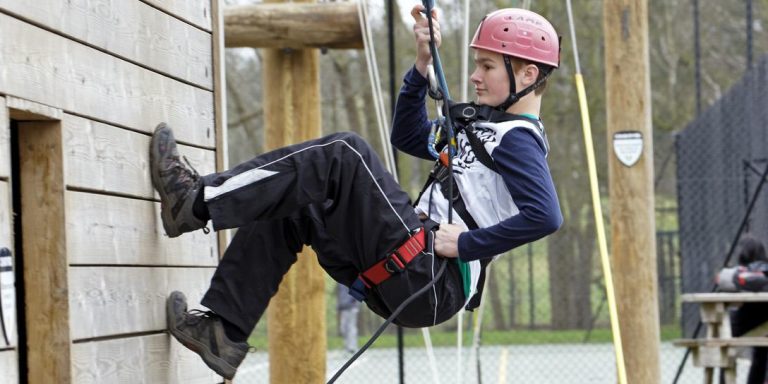 Increase engagement, raise aspirations
A great opportunity to see your secondary school students in a different light, our activity day option sees students engage in challenges outside of their comfort zones. The perfect alternative to a multi-night residential trip, secondary schools can experience the best outdoor adventure activities at exceptional value for money.
Focusing on facilitating skills development in teamwork, communication and leadership, each activity provides the opportunity for students to engage and contribute. We actively encourage participation in our challenges to support students in developing their confidence and ability to collaborate through valuable contributions to team goals. Challenging by choice, we have found our mix of individual and team tasks boosts self-efficacy and the ability to face new scenarios with poise.

Choose your learning goals
With such a wide choice of activities to choose from, Party Leaders can share their desired learning outcomes with our JCA team to create an activity day designed to your students' needs.
During the activity day students will have the opportunity to experience everything from mastering the high ropes, building trust on the low ropes, and completing initiative exercises in a series of challenges led by our team of expert JCA instructors.
Meet your new class: transition day activities
Our centres are perfectly geared to cater for secondary schools seeking the ultimate in transition day adventures. Breaking down barriers between groups, our activities see students come together to work towards common goals.
Encourage interaction, develop listening skills and improve awareness of others with a full day's programme built for team building, discovery and, of course, fun!
Revision trips
Our revision activity days effortlessly combine a half day revision with a programme of outdoor adventure activities.
Taking learning outside the classroom has proven to stimulate focus, increase motivation, and enhance the ability to recall information all while relieving the potential signs of stress. Identify your aims for the tour and our team of specialists will create a programme suited to your group. Whether you want to inspire creativity, challenge through problem solving, or simply keep your students active, our team are on hand to build a residential trip to help students through the revision process.
Our one day school activity trips are offered across our UK activity centres allowing you to choose a site local to you. Reduce travelling time and costs and maximise your time enjoying our comprehensive range of on-site activities on your next JCA adventure.
| Time | Activity |
| --- | --- |
| | |
| 10:00 | High Ropes |
| 11:00 | Laser Maze & Grid of Stones |
| 11:50 | Fencing |
| 12:00 | Packed Lunch |
| 13:00 | Tunnelling & Vortex |
| 14:00 | Archery |
| 15:00 | Low Ropes |
| 16:00 | Orienteering |